Tucked away in pristine wilderness is a wildlife heaven unseen. Wild denizens, birds, reptiles and butterflies regale you with the song of the wild when you set to rest in the Tree House Hideaway. The lodge situated in twenty one acres of wild land has created an ecosystem of its own. A mini reserve the tree resort acts as a bridge between the heaven and Earth. That is the difference!
Imagine living in a tree house decked with all modern amenities and five star comforts. The tree house property is an architectural marvel splendorous, exotic and mysterious. Step In!
The Tree Houses
There are five luxurious ultra modern dwelling up on the tree named after a tree. The dwelling is a unique experience of living in a dense jungle in absolute comfort and style. The airy spacious living space comes with attached modern bathrooms. The well appointed space contains large bed with mosquito nettings, mini bar, split A/C and business desk and chairs. The view is fantastic with dense canopy all around. Yes! Living up there on a tree is for those eclectic souls with refined taste and a desire for serenity and peace. Fresh air, bird songs, ample light and unique ambience is what you get if you stay here.
Up On A Mahua Tree
The dining is up on a tree at level one and the bar or the watering hole upward in the sky is just above the dining area. An evening well spent after sipping the choicest beverages and finest of the cuisine – Indian, Continental and Barbeque. Spend time during the day wildlife watching on the Machaan!
Facilities at a Glance:
All tree houses have modern attached bathrooms with 24 hrs h/c water, a living area, a mini bar, split ACs with 100% power back up, mosquito netting, a writing table & chair, and loungers in the balconies. The Lodge also has Hides overlooking a water hole frequented by wild animals.
All Tree houses have been made by local staff using regularized wood. Local craft knowledge and expertise have been used at all quarters to ensure that the Tree Houses blend harmoniously with nature.
The dining hall is built around a large Mahua tree, on two levels. The ground level serves as a cosy dining hall and the terrace as a bar known as the WATERING HOLE. Dining Hall offers Indian, Continental and barbeque meals personalized to the guests' requirements.
Tree House Hideaway, Bandhavgarh: 5 Exclusive AC Tree Houses built up on the
Trees equipped with modern room amenities
American Plan: Accommodation, 1 cycle of meals, tea/ coffee service, and applicable taxes.
Open jeep safaris
Village walks
Birding
Nature treks
Picnics
Naturalist Services
Cycling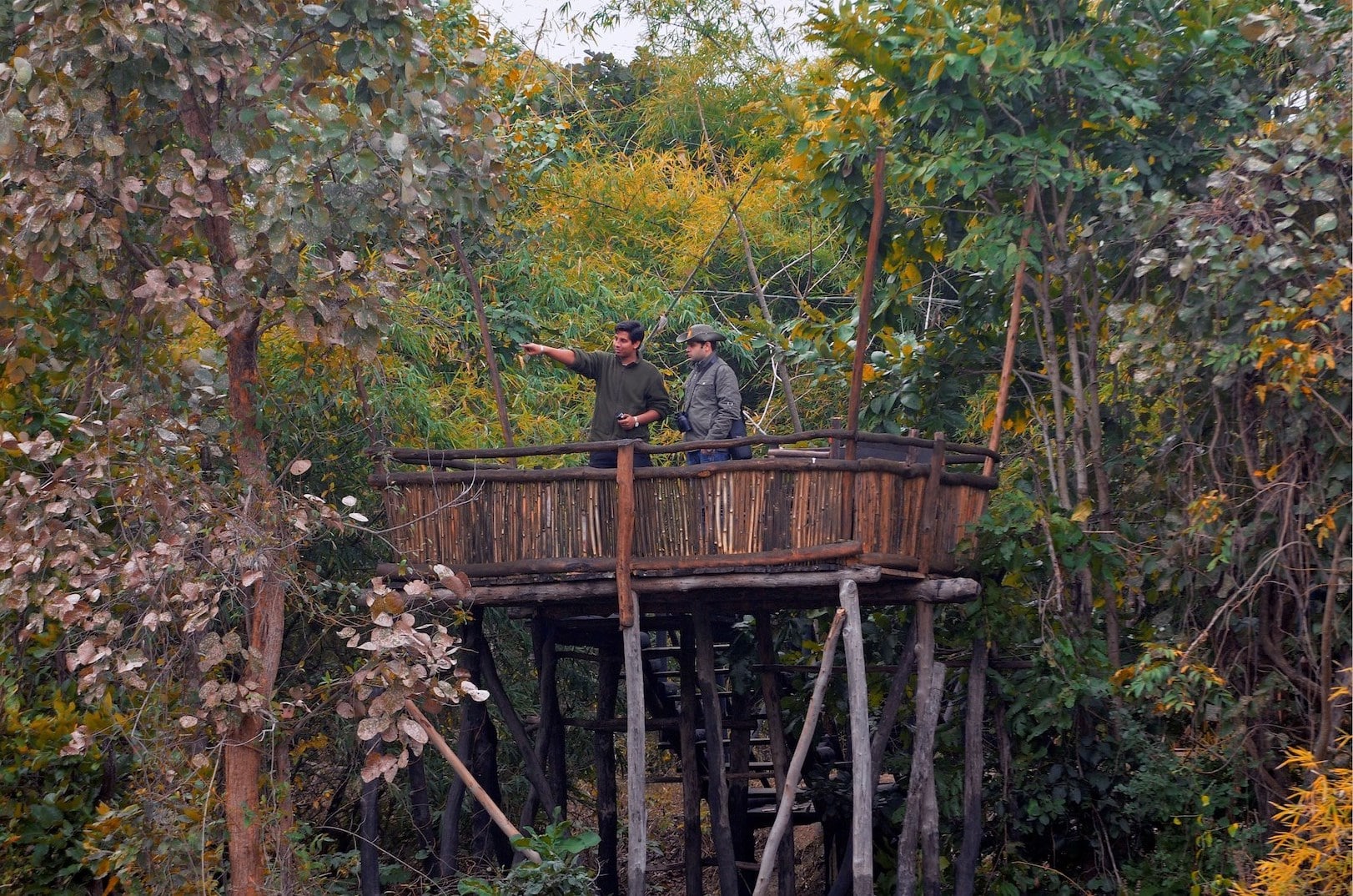 Like the other luxurious tree houses the Tree House Hideaway at Bandhavgarh also caters to upscale high budget clients. It is frequented by many wildlife lovers and upper class clientele for a number of years.